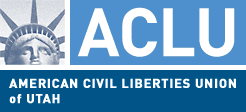 The ACLU of Utah is pleased to announce our 2016 Youth Activist Scholarship program offering two scholarships of $1,500 each.
Deadline:  Monday, February 15, 2016
To qualify for the scholarship you must:
Be a Utah resident;
Be a current high school senior planning on entering an accredited college or university as a full-time, degree-seeking student;
Have attained a minimum cumulative GPA of 3.0 on a 4.0 scale. If the GPA is less than 3.0, the applicant is still eligible but must submit an explanation for the lower GPA;
Have proof of strong commitment to civil liberties through some form of activism addressing such issues as equality, racial justice, free speech, religious freedom, tolerance, and privacy.
To complete an application:
Fill out application
Submit school transcripts
Submit 2 letters of recommendation
Write a 1,000 word essay about what work you have done for civil liberty.

 
Students who complete the application forms will be judged on the following standards:
The strength and depth of the candidate's contributions to civil liberties
Demonstrated leadership
The likelihood of the applicant's continuing commitment to civil liberties in the future
Commitment to academic excellence
Demonstrated financial need
Print up the application form HERE! or get one from Mrs. Sanders in the counseling office.